Deep bite
Before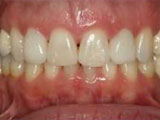 After
This adult had a deep bite and crowded teeth. He underwent correction with Invisalign for 22 months to reduce the deep bite and align the teeth.
---
Adult open bite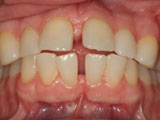 Before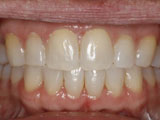 After
This adult patient had an open bite due to a Sleep apnea appliance. Her correction with Invisalign was completed in 15 months. She is now able to bite through lettuce in her sandwich and loves her smile.
---
Open Bite child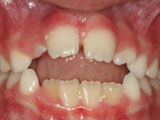 Before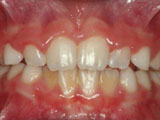 After
This patient started treatment at age 8 to reverse the effects of her long term thumb habit. Her flared and protruding teeth were retracted from 8mm to 2mm. Her upper arch form was widened and her open bite closed. She had braces and a special appliance called a crib. Her treatment lasted for 12 months.
---
Severe Crowding with Permanent Extractions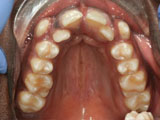 Before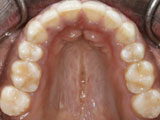 After
At times it is necessary to remove permanent teeth if the crowding is severe. This teenage patient had severe crowding, his correction utilized fixed braces and 4 bicuspid extractions.
---
Underbite (anterior crossbite)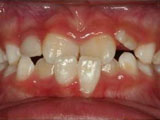 Before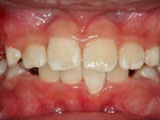 After
This patient underwent orthodontic correction with braces and a Protraction headgear to correct his underbite and straighten his teeth.
---
Excessive Overjet – Flared incisors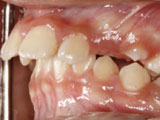 Before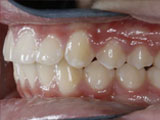 After
At age nine, this patient had a large overjet (the top teeth protruding excessively) beyond the bottom. She had two phases of treatment. The first helped her jaws to grow more harmoniously and the second aligned her teeth and bite. At age 12, she was proudly displaying her new smile.
---
Missing lateral Incisors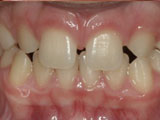 Before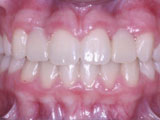 After
This patient's upper lateral incisors are congenitally missing. She had braces to move the teeth into their correct positions. She then had her missing teeth replaced with bonded "Maryland" bridges.
---
Spacing of teeth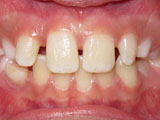 Before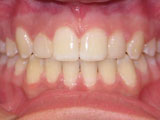 After
This patient was bothered by the spaces between her teeth. She needed braces to close her spacing and achieve an ideal bite.
---
Phase-One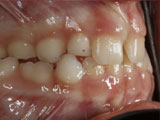 Before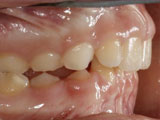 After
This patient started Orthodontic treatment while she still had many primary (baby) teeth. Correction was needed to eliminate her crossbite (where the upper jaw does not fit over lower jaw). Within 12 months we eliminated her posterior cross bite and improved space for the eruption of her permanent teeth. We used a maxillary expander and braces. When all eruption is complete, she will likely need additional finishing work to gain perfect alignment.
---
Non-braces treatment
Before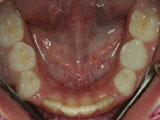 After
Sometimes braces are not needed to get noticeable improvements in tooth alignment. This patient was first seen at age seven for crowding of his lower permanent teeth. Dr. VanDevanter requested that his dentist remove a couple of primary (baby) teeth early which allowed the permanent teeth to straighten without braces.
---
Surgical correction with orthodontics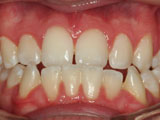 Before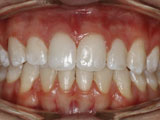 After
This adult patient, chose to use Invisalign along with jaw surgery to correct his severe underbite. Many jaw problems can be corrected without surgery while children are still growing.
---
MARA (Mandibular Anterior Repositioning Appliance)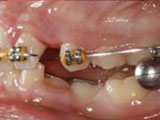 Before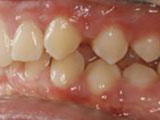 After
This young patient had a crossbite and too much overjet - caused by retrusion of her lower jaw. We used a Mandibular Anterior Repositioning Appliance to bring her lower jaw into proper position and to correct her crossbite. Full braces will be needed in a second phase of braces once all of her permanent teeth erupt.
---
Treatment with missing teeth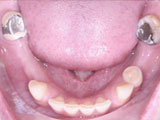 Before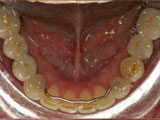 After
Many adults need to obtain alignment before they replace their missing teeth. This woman had an excellent dentist that provided implants and crowns after we consolidated her spacing.
---
Maxillary expander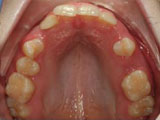 Before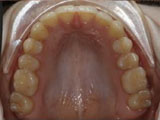 After
We enlarged her upper arch with an expander to allow full alignment for a beautiful full smile!